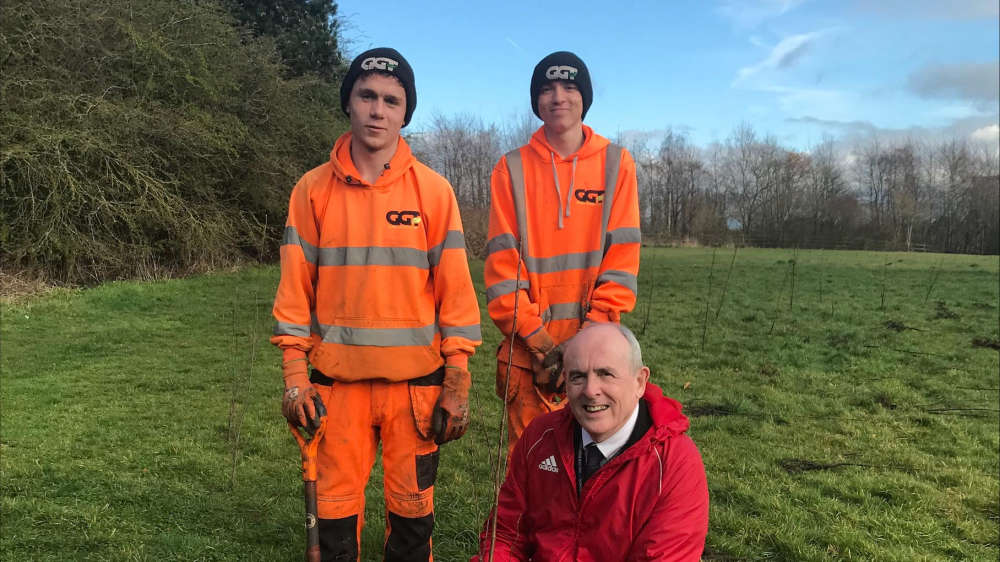 The first of the larger planting sites for the Big Halton Forest is due to be completed by Halton Borough Council this week. More than 3,000 trees have been planted on a grassy hillside off Factory Lane in Widnes and, in the new cemetery adjacent to it, around 500 new trees. Thousands of shrubs are also being planted on both sites. Visiting the site this week, the Council's lead on Climate Change, Cllr Phil Harris, said: "It is a large logistical challenge to arrange these plantings over the next seven years but we believe it can be done. This project will also provide the opportunity to
In 2022 the Big Halton Forest initiative was agreed to plant 130,000 new trees by 2030. The first year's focus was on securing initial resources to enable the project. This has been largely completed with the first external funding of £300,000 secured, meaning no added burden to local taxpayers.
During 2023/24 the focus will be on securing further external funding and to start delivering actual plantings. The first major planting during 2023 is on land at Factory Lane in Widnes, and was funded with £30,000 from the Liverpool City Region Environment Fund, as it will be a managed site for the first two years.
A rolling programme of plantings is being scaled up during 2023/24 to deliver the project across the borough. This includes partnership working across the borough with local social housing providers, schools and others who will use their land to plant trees.
Halton Housing have already begun joint working with the Council and the first high school to commit to consider a planting scheme is the Ormiston Chadwick Academy. The Parklands sports club has also committed to plantings. Options to help create more orchards are also going to be encouraged. The winter of 2023/24 will see the next significant plantings take place.
Developers of housing and commercial sites are also being approached to include more trees in their developments alongside biodiversity gains that will become law later in the year. Options to help create more orchards are also being explored and grassland.
Cllr Harris says: "In addition to the Big Halton Forest project, a serious focus is being developed on the gains to be made from Bio-Net-Diversity. BNG needs to be made into a real game changer for existing greenspaces and in new developments across Widnes and Runcorn.''
Every electoral ward across Halton will at some point have tree plantings over the next seven years, with hundreds of sites being considered from major plantings down to individuals being offered the opportunity to plant a tree in their own garden. The task of co-ordinating this work will be down to a team in the Council's Environment division that are due in post during 2023.
While the Big Halton Forest is principally about tree planting and other green infrastructure it also includes ambitions to improve local waterways, which also be explored during 2023/24 as part of efforts to improve bio-diversity in Halton.