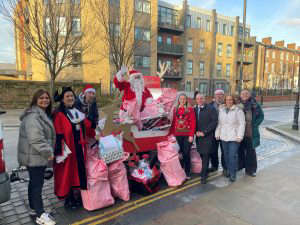 As 2022 came to a close, hundreds of people and scores of businesses across Sefton demonstrated their kindness and community spirit by contributing to the Mayor's Christmas Toy Appeal. Many families in Sefton were anxious about Christmas this year, especially due to cost of living pressures but thanks to the incredibly generous support of individuals and organisations across the Borough, children did not miss out on the special magic of the festive season. Hundreds of pounds was raised through online donations so that volunteers could purchase gifts for children of all ages. Businesses d
The generosity of the Sefton community shone through this year with many families worried about Christmas themselves but still making a donation to the appeal.
Thousands of items, ranging from giant teddy bears to junior science kits and scooters to toiletries were also donated meaning over 500 families received gifts to open on Christmas Day.
Cllr Clare Louise Carragher, the Mayor of Sefton, said:
"I have been blown away by the sheer amount of donations we have seen for our Toy Appeal. When times are tough, our community really pulls together and this year has been our best Toy Appeal yet!
I want to give a personal thank you to everyone who donated to our appeal, every single donation made this year has gone some way to ensuring no child went without a gift this Christmas."
The Mayor of Sefton is writing personal letters of thanks to those across Sefton who went the extra mile to support the initiative and gave time, money and energy to give our campaign a boost.
Our '12 Days of Community' campaign shone a spotlight on those businesses, community groups and people who played a big role in the success of our Toy Appeal this year and without the donations from across a community the Toy Appeal wouldn't be the fantastic initiative it is.
Cllr Carragher added:
"For many of our families across Sefton, Christmas can be a time of real pressure and hardship and the incredible gestures of kindness and self-sacrifice from people right across our Borough has been inspiring."